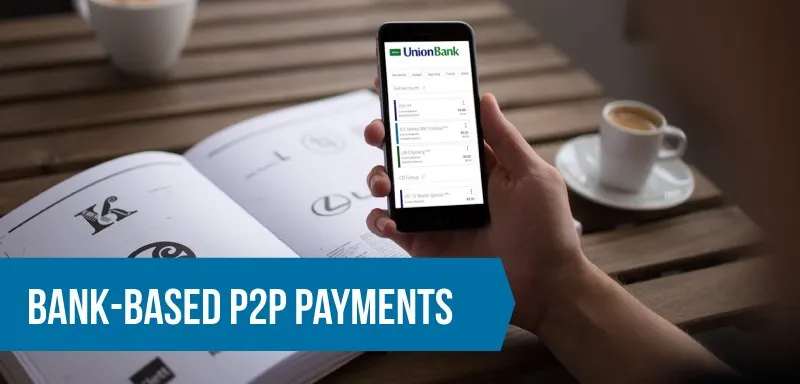 The Benefits of Bank-Based P2P Payments
How do you pay your friend back for your share of dinner? What if you want to send some money to a family member quickly and easily? How about if someone needs to send you some money? It used to be that you generally had to carry cash or a check with you to pay others. You could mail a check if you were unable to meet up in-person but that's neither fast nor convenient.
Person to Person (P2P) payment providers have been growing in popularity as we carry less cash and do more of our banking and payments online. The growth of mobile devices has led many to search for the best P2P payment services that can meet their needs, no matter which device they choose to use.
Now that 77% of Americans use a smartphone, and with 76% of people choosing to carry less than $50 cash with them, it was clear that Union Bank needed to provide a modern P2P bank transfer that fit into the changing lifestyles of people in Northern Vermont and Northern New Hampshire. What is a P2P bank transfer, why is it an important feature to look for in online and mobile banking, and what are the advantages of choosing to make payments using this method? In this article, we will answer all of those questions.
What is a P2P Bank Transfer?
P2P stands for "Person to Person" which means a P2P bank transfer is simply a transfer of funds between your bank account and the bank account of another individual. The transaction is initiated and completed by the two people exchanging funds with banks simply providing the network to complete the transaction. No physical cash has to change hands and the money is sent safely and securely directly to a bank account. As a result, transfer times are extremely fast with many transfers being completed in just a few minutes.
It may sound like such a rapid solution could be a complicated process but P2P transfers are actually remarkably simple. The transaction can be completed using online banking or your mobile banking app. Simply select who you would like to send money to, complete the details of the transfer, and enter your debit card PIN to confirm the transfer. Once the money is sent, the recipient will receive a link by text or email, fill in their banking details, and have the funds deposited directly to their account, often by way of their debit card.
The whole process is fast, secure, and reliable. Sending money, sharing payments, and delivering a gift has never been so simple.
Why Choose a P2P Bank Transfer Over Another P2P Payment App?
With Person to Person payments growing nearly 25% year over year, there are a number of companies looking to offer solutions to consumers who want to send digital payments quickly and easily. So, why should you choose to use a P2P bank transfer over non-bank P2P payment providers?
Simplicity is the obvious reason. Using the online banking portal and mobile app that you are already familiar with, you can send a Person to Person payment using your debit card PIN. No need to set up a new account with a new payment provider and no need to transfer your money between accounts. Best of all, if you're receiving money, the funds are deposited right into your bank account so that you can use the money right away without waiting.
Security is also incredibly important when it comes to moving your money. By using your Union Bank Person to Person transfer solution, you can trust that your regular bank has got your back. There's no need to deposit money with a third party service which may or may not provide the same quality service and privacy protection that Union Bank provides with our P2P payments solution. Plus, all payments are verified by your PIN. That means that no payments can be sent without your permission.
Finally, the fees are a big difference between Union Bank's Person to Person money transfer and other solutions. Sending a secure payment over the debit network using your online banking or mobile banking app is free for Union Bank customers. Third party payment solutions and other banks often charge a fee that could be a flat rate plus a percentage of what you are sending. Why should you pay to send your money to a friend or family member?
Person to Person Payments Made Simple by Union Bank
At Union Bank, we recognize that our customers are always looking for modern, convenient ways to get their banking done. Whether it's paying your bills online, depositing a check using your mobile app, or quickly sending a payment to friends and family without any fees, Union Bank has worked hard to deliver the modern solutions that make your life more convenient.
Ready to send your first P2P payment? It's easy to get started and there are no fees to securely send your money. Simply login to your online banking or use your mobile app to begin using UBP2PHub– the fast and free P2P payment solution from Union Bank. Once you see how fast, easy, and secure you can send money, you'll think twice about writing another check!