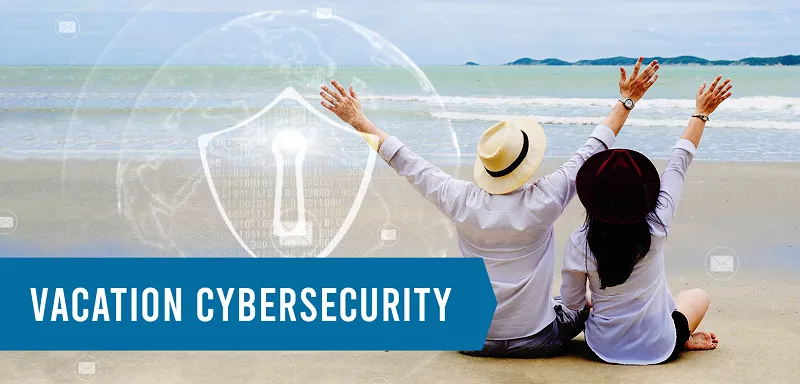 Staying Cyber-safe on a Summer Vacation
Hitting the road for your summer vacation? You're probably familiar with security basics like putting your lamp on a timer and not sharing your trip dates online. Unfortunately, your home's physical security isn't the only thing you need to worry about. Your portable electronic devices contain just as many, if not more, valuables than your house. When it's time to leave for your trip, the security of your devices is just as important as locking your front door behind you. Union Bank cares deeply about the security of our customers and community. Here are our top tips and strategies for keeping your sensitive information (account logins, credit card information, and more) safe and secure while you're away from home.
Before You Leave
Only use trusted and secure sites to book travel reservations. In addition to using reputable travel booking sites, make sure the site is secure before you enter your payment information. Look for a web address that starts with "https://" instead of just "http://." The 's' means secure. There should also be a padlock symbol in the address bar.
Take the time to update your devices' software. Many people ignore these notifications because they're afraid of losing files or the ease of use they experience with the current software. Or, you try to update your phone's operating system, only to get an error message that the storage is too full. Whatever your obstacles, we strongly encourage you to set aside enough time and get help if you need it in order to update your devices. You may think you are only missing out on the latest features, but you're actually missing out on critical security updates, leaving your device vulnerable to cyber-attacks. This article from Popular Science has a helpful list of instructions for updating every type of computer and mobile device.
Create a unique password for each of your devices. You probably already have a passcode for your phone, but what about your laptop or tablet? The strongest smartphone/tablet passcodes consist of 6 numbers (not 4) or a swipe pattern with at least one change in direction. For laptops, cybersecurity experts recommend a password with at least 8 characters. Use both upper and lowercase letters, special characters, and numbers. If you have trouble remembering passwords, try using the first letter of each word from a favorite phrase. For example, "Heard it through the grapevine" could become HiThG with 3 more characters at the end such as "@311."
Impose an automatic lock. If you don't already have this feature enabled, make sure all of your devices will automatically lock after a certain period of inactivity. While a thief may be able to take your physical device, they won't be able to steal your data if the passcode and lock screen is in use.
Set up "Find my Device/Phone." Both Apple and Android devices have free apps for finding your phone from another device if lost. You can also ring, lock, or erase the data on your phone. These apps also work for other mobile devices such as tablets. "Find my Phone" can help you recover a lost or stolen device while traveling.
While You're Away
Avoid public Wi-Fi networks. Open-access networks are not encrypted, so cybercriminals could potentially spy on your device and steal sensitive information. If you're going to use public Wi-Fi for general web browsing, just be sure to exit the network and use your phone's data plan or personal hotspot for logging in to personal accounts.
Keep your mobile devices physically secure. Now that you've taken steps to secure your devices from cyber-attacks, make sure to keep them physically secure while traveling. Many hotels provide a safe deposit box to store valuables in. When you're out with your phone, don't leave it unattended and be wary of pickpocketing
Wait to post about your vacation. Keep your social media accounts private so only your friends can see your posts. And even with that precaution, don't post vacation snapshots until you get home. Not only do you run the risk of a home break-in when you announce you're out of town, but scammers may also target your family and friends.
Union Bank Wishes You a Fun and Secure Vacation!
From all of us here at Union Bank, enjoy your summer and any trips you have planned! If you need help securing your device or have questions about these tips, feel free to give us a call or visit the nearest Union Bank branch location in Northern Vermont and Northern New Hampshire. For more cybersecurity advice, check out our blog articles on Keeping Your Devices Secure, Online Shopping Mistakes, Social Media Security Tips, and more.