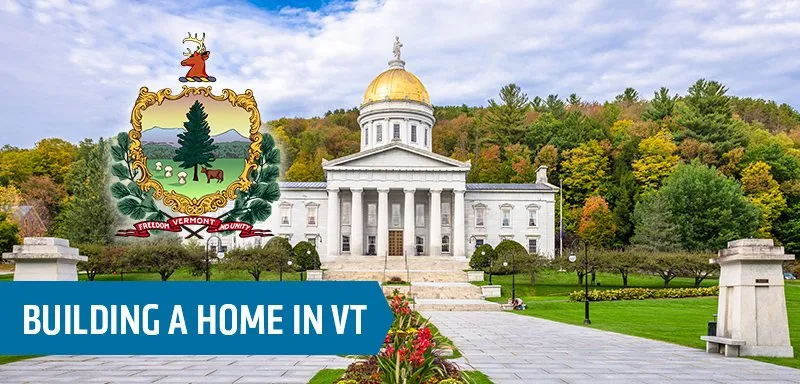 2022 Update: The Vermont Home Buyer's Guide to New Construction
With a naturally beautiful landscape and community-minded population, The Green Mountain State is a wonderful place to call home for people of all ages and occupations. Ranked eleventh in U.S. News' 2021 list of Best States, Vermont is known for its maple syrup, dairy farming, cheese, outdoor activities, craft beer and the arts scene. It ranks even higher for public safety—third in the nation. So if you're looking for a peaceful place to build a new home, you can't go wrong with Vermont, whichever part of the state you choose.
Here at Union Bank, we're partial to Northern Vermont since it's been our home for more than a century. Of the state's 23 recognized historic downtowns, three are Northern Vermont towns where we have branch locations: St. Albans, St. Johnsbury, and Stowe and another three are in towns adjacent to a Union Bank branch (Barre, Montpelier and Waterbury). We also do many construction loans in Burlington and surrounding Chittenden County, the most populous county in the state. With beautiful Lake Champlain bordering part of the area, as well as the medical center and the University of Vermont campus and other local colleges, the Burlington metro area is very attractive to new home buyers.
Because Vermont is such a desirable place to live, and still relatively undeveloped, it's an attractive place for new construction. On January 1, 2019, the Remote Worker Grant Program took effect, providing even more incentive for out-of-state residents to consider becoming Vermonters. If you're thinking about building your dream home from scratch in Vermont, Union Bank's Build/Construction Loans provide convenient, one-stop financing throughout the entire process from start to finish. Wherever you are in the planning stage, this guide will tell you everything you need to know and expect from building or buying a new construction home. If it doesn't answer all of your questions, give us a call at 800.753.4343 or visit your local Vermont branch. Our experienced lending team is always available to share our local expertise.
Is it better to buy a house or build your own home in VT?
With an unemployment rate lower than the national average and a culture of strong support for small businesses, Vermont has a thriving economy with benefits for both employees and entrepreneurs. Visit Think VT to learn more.
Our state is also strong on education at every age. From Universal Prekindergarten, which provides 10 free hours of PreK education per week during the school year, to Vermont's notable institutions of higher education, like the University of Vermont and Northern Vermont University, Vermonters value the culture, civic skills, and economic benefits that come with education. The state legislature recently passed a bill that would provide free tuition (yes, really) for in-state residents who attend Vermont's Community College system.
If you choose Vermont as your permanent home, the primary question that remains is whether to build a new home, or buy an existing home. Here are the pros and cons of both options:
New Construction Homes
This option gives you the most control over where you live and how your home is designed. From farmland to suburbia and cities, you can decide which location best suits your professional needs and lifestyle goals. Think VT breaks down some the state's regions as follows:
Northwest Vermont "is characterized by a diverse economy, a growing tech scene, strong academics…and, revolving around the Church Street Marketplace, one of America's most walkable and engaging downtowns. Union Bank has locations in the Northwest Vermont communities of Fairfax, Williston, St. Albans, Shelburne and Jericho.
Northeast Vermont "is known for its rugged natural beauty and eclectic character." You can find Union Bank in the following Northeast towns: Hardwick, Jeffersonville, Johnson, Lyndonville, Morrisville, St. Johnsbury, and Stowe.
Central Vermont, "ranging from the narrowing waters of Lake Champlain in the west to the Connecticut River in the east, provides a dynamic cultural cross-section of the state." Visit our Central Vermont location in Berlin.
Home Buying
Building new construction can be a smart move in a robust real estate market, such as the one Vermont is currently experiencing. Based on June 2022 reports, the inventory of homes for sale isn't matching demand, with homes selling quickly and leaving fewer available. That assessment is supported by Zillow, which currently describes the Vermont real estate market as very hot. The state's median home value is $362,179. Buyers in lower price ranges may find it difficult to find homes that don't need a lot of renovation and updating. These are all reasons to consider building instead of buying. Next, we'll look at the costs of building new construction in Vermont.
How to Buy a New Construction Home
A third option is to buy new construction instead of building it yourself. Ask your real estate agent about new communities in the region you're looking in. It may be possible to pick a model or buy one that has already been constructed.
What is the cost to build a home in VT?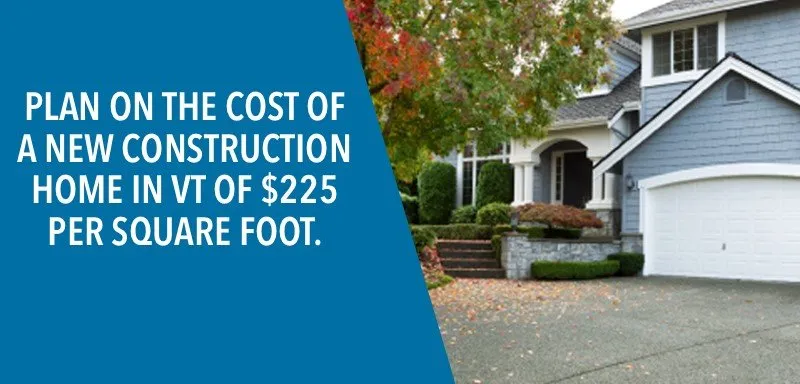 According to the home construction website ProMatcher, the average cost of building a new home in Vermont is $225 per square foot for basic construction. That works out to be $405,000 for a 1,800 square foot home, which isn't much higher than the state's current median listing price of $362,179. Why not get exactly what you want instead of compromising in a seller's market?
Ultimately, the total cost of your new construction home will depend on a variety of factors, including costs unrelated to the house itself. Here's what to expect:
Floor Plans: The home construction firm you hire will have its own selection of floor plans. If you want to find your own, you may be charged a fee. Before you make a final decision on a floor plan, make sure it will fit your lot, both literally and in terms of aesthetics. A house that is too big for its lot can look out of proportion and out of place. Keep in mind the square footage of the floor plan directly affects the total cost, so it doesn't pay to believe that bigger is always better.
Style: The more you sign off on standard interior design and architectural features, the lower you'll keep the total cost. Anything unique or unusual will be more expensive for the builder to execute.
Construction Costs: It should go without saying that you need to shop around, collecting estimates from more than one builder before you sign a contract. You should also request references from contractors and follow up with their previous customers. Your builder will give you a price for basic construction costs. It's up to you to choose the quality of materials inside your home, such as flooring and kitchen cabinetry. These are important choices as they will either keep the basic costs level or raise the total significantly.
Site Preparation: Depending on the condition of your lot, you may need to pay for pre-construction clearing of trees, rocks, and other obstructions.
Permit Fees: Contact your local municipal office to learn about your town's regulations and fees for building and zoning permits. Your builder can usually tell you the cost of permit fees in advance.
Labor Costs: Vermont is currently experiencing a shortage of qualified workers in the construction industry, which could potentially increase the cost of labor for your new home construction.
Materials: This is another factor to discuss in advance with your builder. The cost of construction materials have fallen recently, but prices remain volatile. Fluctuations in the economy and the timing of your construction project will determine costs of materials.
How to Find a Vermont Land Lot to Buy and Build On
Whether you choose a unique location to build on, or purchase a lot in a planned community, the regulations of your local municipality will influence much of your decision-making process. It's crucial to work with a real estate agent who has proven experience with land transactions. You'll also want to keep this checklist of questions within reach (taken from our New Hampshire guide to new construction):
What is the land zoned for? Are there any zoning restrictions on what you can build?
Is your land in a wetland area?
Is it part of a designated Historic District?
What are the required setbacks? Are there any view ordinances on the land?
Is the land contaminated with asbestos, spilled fuel, or other environmental toxins? Conduct your own testing to be sure.
Are there any landslide or flood risks?
What are the easements (if any) on your land? Will you have road access?
Is the land "raw" (meaning nothing has been added) or "improved" (meaning there may already be some or all utilities installed)?
Are there any utilities set up on the land, such as electricity?
Is the water source from the municipality or from a well?
Is there a septic or sewer system installed?
Will you own any mineral or timber rights to the land?
What is a fair price? If you obtain land financing from a bank, an appraisal will be part of the process. If you're paying in cash, make sure you hire an independent appraiser before you agree to a sale price (something that would be part of the normal process if you were getting a mortgage).
A timeline of the home building process in VT
There are four primary phases to any home construction project:
Financing: Work with a local lender like Union Bank to obtain your home construction loans to ensure you have easy and quick access to your loan funds.
Prep Time: You may be eager to watch your new home rise from its foundation, but first the builder needs to take care of paperwork (like permits) and clear the site as needed.
Construction: This phase encompasses all of the steps needed to build the frame of your house up from the ground and turn it into a livable home. From the foundation to the hardware on your kitchen cabinets, construction is the most exciting phase.
Inspections and Certificate of Occupancy: Here's where you're reminded that the true purpose of permits, zoning, and building regulations is to keep everyone safe and make sure your home's value will stay intact. Before you can move in, your municipality may inspect the property and issue a certificate of occupancy.
How to Choose Between Home Construction Companies in VT
The  National Association of Home Builders is an excellent resource for finding qualified and highly rated Vermont home builders in your area. For example, a search NAHB members in Vermont returns 14 Vermont home builders. You can look at each builder's prior work, which will help you find someone whose style matches your design preferences.
You'll also want to look at examples of your builder's work in person. It may not be possible to tour a private residence, but you can drive by to see the exterior.
Word-of-mouth is also a timeless way to get good referrals. If you're already part of the community you plan to build in, ask your neighbors if they know anyone who had a positive home construction experience. Ideally, you want to find someone with extensive local expertise, to help you navigate local ordinances and permitting regulations.
The last step in choosing a Vermont home builder is to review the contract carefully before signing. Make sure all of the factors we mentioned above are included, so there won't be any unpleasant surprises along the way.
How to Get a New Home Construction Loan
How do home construction loans work? Let's cover the process of financing your home construction project. It's different from getting a traditional home mortgage.
First, your lender will check your credit and appraise the value of the lot and floor plan for your new home.
Next, you'll be required to purchase the necessary insurance policies.
Home construction loans usually require a higher down payment than a conventional mortgage because your home won't hold its full value until construction is finished.
Once the loan is approved, funds are released incrementally as your builder makes progress and submits invoices.
After the home is 100% complete and you get a Certificate of Occupancy, if needed, for your new home, you'll need to refinance your construction loan into a home mortgage loan.
Partner with a local lender for home construction loans and land financing!
Enjoy a smoother home construction experience when you work with a local lender. Union Bank has been helping Vermonters buy and build their dream homes since 1891. Our successful service of local communities in Northern VT and Northern NH has been recognized by American Banker Magazine, which ranked us among the top ten performing community banks in America, four years in a row.
The Union Bank lending team is especially experienced in construction lending. Our Land Loans and Home Construction Financing are customized to fit the needs of your project. Most importantly, our Build/Construction Loans are designed for maximum convenience. We save you time, money, and hassle by offering complete financing from beginning to end with the same lender. Funds are disbursed from your Union Bank Construction Loan Checking Account. And once your home construction is complete, we'll help you turn the loan into a permanent conventional mortgage.
Take the next step toward building the new home you've always dreamed of. Call us for more information or visit your nearest branch in northern Vermont or northern New Hampshire today.