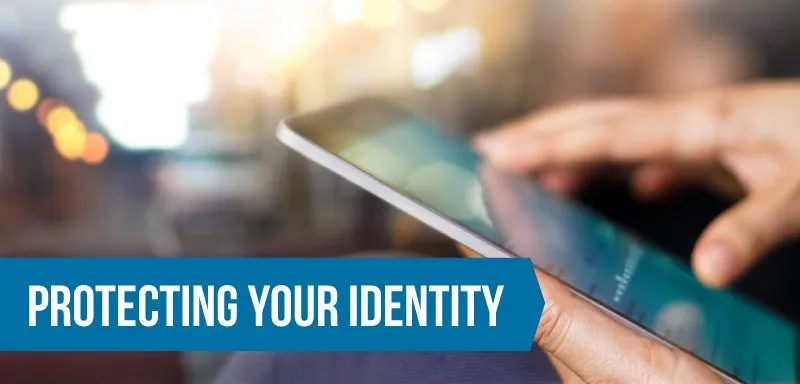 How Can You Protect Yourself From Identity Theft? 5 Easy Steps To Take Right Now
Major data breaches have become almost routine. Where does all of that stolen information go? You may have heard of the "dark web," which sounds like a plot point in the latest science fiction novel, but is actually a hidden part of the Internet where your personal and financial information can be bought and sold. Luckily, there are easy steps you can take right now to protect yourself from identity theft. Here are five recommendations for preventing identity theft, plus what to do if it happens to you:
1.  Check your free annual credit reports.
Federal law gives you the right to obtain your credit report for free every year. You can make this request of all three major credit bureaus–Equifax, Experian, and TransUnion–by visiting AnnualCreditReport.com. Beware of copycat sites and the phishing schemes and ads that may try to lure you to them. "AnnualCreditReport.com" is the only website condoned by federal law and officially sponsored by all three credit bureaus. Protect yourself by typing the web address directly into your browser instead of following a link that may look accurate but take you somewhere else.
2. Consider "freezing" your credit report to safeguard against identity theft.
Under Vermont state law, "You have a right to place a 'security freeze' on your credit report pursuant to 9 V.S.A. § 2480h at no charge if you are a victim of identity theft. All other Vermont consumers will pay a fee to the credit reporting agency of up to $10.00 to place the freeze on their credit report."
New Hampshire residents are also protected by a similar state law. Not a resident of VT or NH? Most states have similar laws. Even if yours doesn't, all three major credit reporting agencies provide a voluntary freeze option.
Here is some additional information about credit freezes:
A security freeze prevents the credit reporting agencies from sharing your credit report with lenders without authorization. This will protect you from having unauthorized credit accounts opened in your name without your knowledge. However, it will also create some extra work for you if/when you do wish to apply for a credit account such as a mortgage or credit card.
To request a security freeze, you must send a letter by certified mail to each of the credit bureaus.
You'll receive a PIN or password that you must use when you wish to release your credit report to certain lenders or other third-parties. To do so, contact the credit bureau with your PIN/password, provide proper identification, and name the lender or other third-party entity you are authorizing the release of your credit report to.
The credit bureaus are allowed to charge up to $5.00 to remove the freeze entirely or to release your credit report to an authorized third-party while your report is under the freeze. This fee is waived for victims of identity theft.
Is the hassle worth the peace of mind? Only you can answer that question, but keep in mind that identity theft is a much bigger–and longer-lasting–problem than dealing with the freeze process. It may be worth it to place a freeze on your credit report if you don't intend to obtain credit anytime in the near future.
3. Consider purchasing a "credit lock" or credit monitoring service.
If you like the idea of a credit freeze but are wary of the requirements, all three credit bureaus offer similar "credit lock" options and other identity theft protection products:
It's important to read all of the details about these services, even if they don't cost you anything (in the case of Equifax). Unlike a credit freeze, identity theft protection services aren't mandated by law, so you want to make sure you understand exactly what you're getting. The same advice applies to identity theft protection programs offered by other companies. Finally, some credit cards offer credit monitoring services to their customers at no extra charge. Check your accounts to find out if you already have access to identity theft protection.
4. Keep your login credentials secure with strong passwords and two-factor authentication.
More Americans are aware of two-factor authentication and the importance of not using the same password for more than one account. But are you actually incorporating these lessons into your own life? If not, the Equifax data breach was a wake-up call to get serious about protecting your online accounts. After all, even if you're not a public figure you still have plenty of information (bank accounts, credit cards, etc.) thieves would love to get their hands on.
Here are the most important steps to take right now:
Make a habit of frequently scanning your credit card statements, bank account activity, and other financial accounts. In the age of auto debits, this is a good idea regardless of whether or not you fall victim to identity theft. You may discover you're being billed for a membership or subscription you don't even remember or barely use. Or that a family member made digital purchases without asking you first. And of course, if a stranger is using your account, you'll notice a lot sooner if you check regularly.
Create unique passwords for each of your online accounts. Yes, this may make it harder for you to remember them, but if you reuse the same user name and password for multiple accounts, it makes your information much easier to compromise. You can always keep a list but don't save it on your computer or in an email file where the information can easily be stolen.  If you are using the "remember my password" option in your web browser, make sure your computer operating system, browser, and virus/malware protection software are up to date with the latest security patches.  You may also want to sign up for a password manager service.
Set up two-factor authentication on your email and other important accounts., Many companies offer some form of multi-factor authentication, which could involve challenge questions, a one-time code sent to your phone, or perhaps a third-party smartphone application. Yes, it makes online navigation a bit more involved, and multi-factor authentication isn't perfect, but it's an important part of good cybersecurity hygiene, just like changing your passwords regularly.

5. Stay informed about the latest scams.
Hackers and thieves constantly change their methods and approaches, particularly in response to major news stories like the Equifax breach. To avoid falling victim to hackers such as the social media account scams we recently covered, it's helpful to follow the latest stories. Local media reports and the Federal Trade Commission "Scam Alerts" page are good sources of information. You could also set up a Google alert for stories about identity theft, data breaches, and cybersecurity. Another approach is to put one person in the family in charge of staying-up-to-date on scams and identity theft issues. This "point person" can then brief everyone else, including elderly relatives and children who may be more susceptible to scammers.
How to report identity theft
What can you do if you suspect your identity has already been stolen? If there is fraudulent activity on an existing account, report it to your financial institution immediately. The Federal Trade Commission's IdentityTheft.gov is a thoroughly helpful resource for figuring out the next steps and saving time on reporting with pre-filled letters and forms.  You may also want to contact your respective Attorney General's office as they have consumer assistance resources available to guide you through the reporting process.  Your local police may also be able to help.
Stay local. Go far. Protect yourself from identity theft.
For more information on how to prevent identity theft, visit our "Preventing Fraud" page. You can also follow Union Bank on Facebook to keep up with cybersecurity news and tips. Technology is always evolving, so as new advances in cybersecurity materialize, we will help our customers figure out the best ways to keep sensitive data safe. Always remember that Union Bank will never ask for your personal information or account credentials over email, text message, or phone calls. If experience any suspicious activity related to your Union Bank account, please contact us immediately.