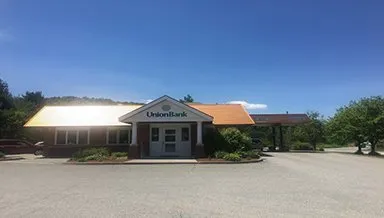 Hardwick
Jennifer Draper
Branch Manager
Address
103 VT Rte. 15 West
Hardwick, VT 05843
Mailing Address:
P.O. Box 667
Morrisville, VT 05661
Phone/Fax/ATM
802.472.8100
800.522.2950 [FAX]
24-hour ATM:
Drive-up
Hours
Monday–Wednesday
8:00am–4:00pm
Thursday–Friday:
8:00am–5:00pm
Drive-Through Hours
Monday–Wednesday:
8:00am–4:00pm
Thursday–Friday:
8:00am–5:00pm
Since 1993, our Union Bank branch in Hardwick, Vermont has proudly served commercial, personal, and municipal customers. You'll find us near Caledonia Spirits, Aubuchon Hardware, Dona's Car Store, and Lamoille Valley Ford. When you visit the Hardwick Office, you can expect a warm greeting from employees who are willing to assist in any way. Our Hardwick team is always happy to provide personal attention to your unique financial needs.
Stop in and meet the Hardwick team. We're excited to help you find a custom solution to meet your financial goals. Find out why more Vermonters pick Union Bank for their mortgage needs than any other bank. We offer "big bank" modern conveniences such as online and mobile banking without sacrificing our commitment to in-person local service.
We are proud to announce our branch has earned the ENERGY STAR® certification from the U.S. Environmental Protection Agency again in 2022! The next time you visit, check out the little blue label on display at our entrance – it represents proven, verified superior energy performance over a 12-month period. In fact, ENERGY STAR certified buildings perform in the top 25 percent of similar buildings.
Union Bank is a true community bank serving Vermont and New Hampshire. We support local causes and organizations such as AWARE, the Greensboro Historical Society, the Hardwick Food Shelf, and more.
Find out how far you can go when you stay local. In addition to drive-through banking, including a drive-up ATM, Union Bank Hardwick features parking on three sides of our building.
Looking for banks or lenders in Hardwick, VT? Please come check us out! Union Bank is a full-service bank offering investment and trust services as well as personal and commercial banking: