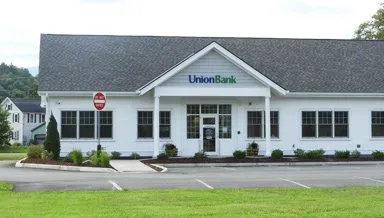 Jeffersonville
Tammy Cox
Branch Manager
Address
5062 VT Route 15
Jeffersonville, VT 05464
Mailing Address:
P.O. Box 667
Morrisville, VT 05661
Phone/Fax/ATM
802.644.6600
800.522.2950 [FAX]
24-hour ATM:
Drive-up
Hours
Monday–Wednesday:
8:30am–4:00pm
Thursday–Friday:
8:30am–5:00pm
Drive-Through Hours
Monday–Wednesday:
8:00am–4:00pm
Thursday–Friday:
8:00am–5:00pm
Welcome to Union Bank's Jeffersonville branch. Originally opened in 1917, our Jeffersonville location has changed over the years. We've been in our present location on Rte. 15 since 2016. Look for the beautifully painted murals commissioned by the Cambridge Arts Council with a grant from the Vermont Arts Council in 2016. Our building has a white exterior with a striking black roof and a beautiful interior featuring an octagonal ceiling and local artwork.
New to Jeffersonville and looking for a local bank? Our employees can help welcome you to the area. Jeffersonville is a lovely place to call home with local canoe rentals, bike rentals for the Rail Trail, and tastings at Boyden Valley Winery, The Notch, maple producers' shops, and great maple creemees.
Stop in to meet Branch Manager Tammy Cox and the rest of the Jeffersonville team. We're excited to discuss your financial goals so we can help you achieve your dreams. Whether it's a new house, a college education, or simply a hassle-free checking account, you'll always receive personalized attention. Union Bank is proud to treat every customer like a neighbor. Community matters to us; after all, we've been part of the Lamoille County community since 1891.
We are proud to announce our branch has earned the ENERGY STAR® certification from the U.S. Environmental Protection Agency again for 2022. The next time you visit, check out the little blue label on display at our entrance – it represents proven, verified superior energy performance over a 12-month period. In fact, ENERGY STAR certified buildings perform in the top 25 percent of similar buildings.
Union Bank is a true community bank with a commitment to investing in the towns we serve. As a branch, Union Bank Jeffersonville supports local causes and organizations such as the Lamoille Area Cancer Network, Cambridge Area Rotary, Bryan Memorial Gallery, Cambridge Arts Council, and more.
Find out how far you can go when you stay local. More Vermonters choose Union Bank for their mortgage needs than any other bank. At the Jeffersonville office, you can expect personalized customer service, a friendly greeting, and a team of employees who are ready and eager to help with all of your banking needs. In addition to drive-through banking, including a drive-up ATM, Union Bank Jeffersonville has a spacious parking lot in front of our building.
Looking for a bank or lender in Jeffersonville? Please come check us out. Union Bank is a full-service bank offering investment and trust services as well as personal and commercial banking: