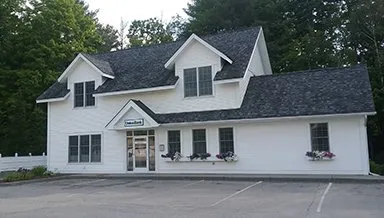 Littleton, Dells Road
Tara Donovan
Branch Manager
Address
263 Dells Road
Littleton, NH 03561
Phone/Fax/ATM
603.444.7136
800.522.2950 [FAX]
24-hour ATM:
Drive-up
Hours
Monday–Thursday:
8:30am–4:00pm
Friday:
8:30am–5:00pm
Saturday:
8:30–12:00pm
Drive-Through Hours
Monday–Thursday:
8:30am–4:00pm
Friday:
8:30am–5:00pm
Saturday:
8:30–12:00pm
Opened in 2006, our Dells Road branch is Union Bank's first New Hampshire location. You'll find us right off of I-93, across the street from Walgreens. Many customers look forward to and compliment us on our colorful summer flower boxes. Stop by to meet Branch Manager Tara Donovan and the rest of the Littleton Dells Road team. You'll find our friendly and helpful staff is passionate about providing the kind of personal attention you won't find at larger banks. We offer flexibility and modern convenience without sacrificing good service.
When you visit us on Dells Road, you can expect to find friendly faces and superior customer service⸺we strive to address each customer by name and anticipate their needs before they even ask. And as a longtime community bank, we have always been committed to investing in the towns we serve. Here in Littleton, Union Bank supports local causes and events such as Meals on Wheels, youth activities, golf tournaments, Littleton Area Dinner Bell, Lunenburg Historical Society, and The Top of the Common Committee.
Find out how far you can go when you stay local. Union Bank on Dells Road in Littleton offers drive-thru banking, including a drive-up ATM, and a wheelchair-accessible entrance. Parking is available in front of our building.
Comparing banks or lenders in Littleton, NH? Come by and check us out. Union Bank is a full-service community bank offering investment and trust services as well as personal and commercial banking.