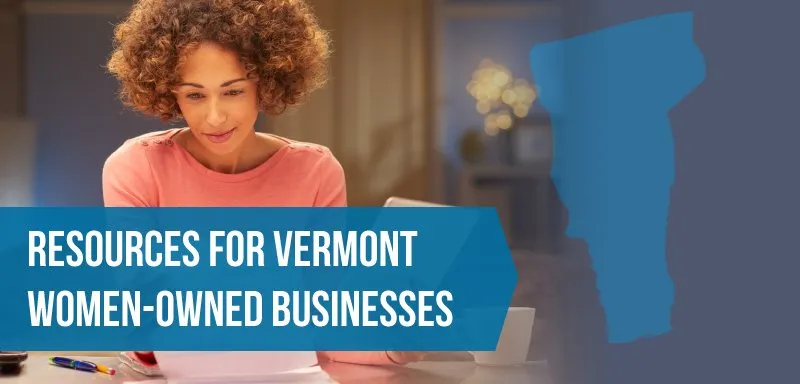 Ultimate Guide To Small Business Loans, Grants, And Resources For Women In Vermont
Women-owned businesses are crucial to the growth of Vermont's economy. According to recent figures from Vermont's Commission on Women, there are 23,417 women-owned businesses in the Green Mountain State, with a total of 36,326 employees and approximately $2.2 billion in annual revenue between them. However, women still don't run businesses at the same rate as men, so there is plenty of room for more female entrepreneurs in Vermont.
As a community bank, we care about empowering women to start new businesses, which contributes to greater prosperity in local economies. That's why we put together this comprehensive list of resources for female entrepreneurs in Vermont. The list includes a wide variety of free resources, sources for grants and financing, and valuable information for those wishing to operate a woman-owned business in Vermont.
Getting Started: Resources For Female Entrepreneurs In Vermont
Some of these organizations are specifically for women; others are open to the general population but still helpful for female entrepreneurs. We've broken them into categories according to the main service they offer. Unless otherwise noted, all resources are free.
Looking for that first step to take? Print a business start-up guide checklist from the website of the Vermont Secretary of State. And for general help, reach out to your local Regional Development Corporation in Vermont.
Mentoring And Education
is a volunteer-run organization that pairs aspiring and established entrepreneurs with business mentors. It isn't specifically by/for women, but includes female mentors. Vermont SCORE also offers monthly workshops on various business topics such as website basics, communication, and more.
The Vermont Small Business Development Center helps new and experienced business owners by providing free individual advising services. All conversations are confidential and they can provide a range of advice such as where to find business capital to get started. They also run weekly "Starting Your Own Business" workshops at various locations across the state. While the advising service is free, workshops a fee to attend.
The Mercy Connections Women's Small Business Program supports local female entrepreneurs in Vermont with workshops on self-employment, business planning, and personal finance.
The Center for Women & Enterprise (CWE) established its Women's Center in Vermont in 2016. They are partially funded by, and partner with, the U.S. Small Business Administration to support potential and current women entrepreneurs. Services include: education and training (most in-person workshops are free, but some may require a small fee), online learning (there is a fee to take an Internet class), financial education and support, networking opportunities, and consulting and mentoring. Education scholarships are available.
Networking And Professional Organizations
State Grants And Financing In Vermont
Every new business needs funding to launch and thrive in the early days. You'll probably have to find multiple sources for the capital you need, so don't rule out any opportunity, however small. Below is a list of business loans as well as grants for women in Vermont. The primary difference between the two is that loans have to be repaid; grants are yours to keep. As with the resource list, some of these opportunities are just for women; others are open to all business owners.
Grants For Women Starting A Business In Vermont
The Amber Grant From WomensNet: Awards a qualifying grant of $1,000 each month and selects an annual recipient of the $9,000 Amber Grant from that year's monthly winners. The application is fairly simple–the main part of it is to tell the story of your business and how you plan to use the funds. There is a $15 application fee to enter.
Women agricultural entrepreneurs can apply for stipends and scholarships from The Vermont Farm Women's Fund.
Small Business Loans For Women In Vermont
Community Capital of Vermont (CCVT) is "a statewide small business and microenterprise lender serving low and moderate income entrepreneurs. Loans range in size from $1,000 to $100,000 and can be used for business start-up or growth and expansion. CCVT specializes in providing loans to business owners who lack the collateral or credit history to qualify for traditional bank loans."
Vermont's Micro Business Development Program (MBDP) "helps low to moderate-income Vermonters start and grow micro businesses. These are businesses that employ less than five people and generate less than $25,000 in annual revenue."
The Northeastern Vermont Development Association provides business financing and consulting services. Their funding is geared more toward existing businesses rather than new ones, but they also help entrepreneurs with financing applications. You can find their loan application online.
The Vermont Community Loan Fund is "a mission-driven, community-focused alternative lender" that provides financing to local businesses including child care providers and nonprofits.
The Center for an Agricultural Economy is a Vermont organization that provides advising, a shared-use commercial kitchen, and funding for farm businesses and specialized food equipment.
Small Business Administration (SBA) Loans For Women
SBA loan programs are one of the most popular sources of funding for new and growing businesses. Banks and other authorized SBA lenders, such as Union Bank, make government-guaranteed loans to entrepreneurs and business owners who don't always qualify for traditional financing. Read more about SBA loan options, including their multipurpose 7(a) loan and Microloan programs on SBA.gov.
National Grants And Resources For Women-Owned Businesses
Don't limit yourself to grant contests within Vermont. These national opportunities provide additional sources of funding for your business.
Resources
The Grants For Women database allows you to search through an alphabetical list of grants, funding, and scholarships to find a relevant opportunity for your business venture.
gov is a database of federal grants for a variety of organizations, including small businesses.
Grants and Awards
State And Federal Tax Benefits For Women-Owned Businesses In Vermont
Women-owned companies fall under the umbrella of minority-owned businesses. While the federal tax code doesn't offer a credit simply for being minority-owned, there are tax incentives intended to encourage government agencies and others to retain the services of minority-owned businesses. For example, you can attract investors through the new-markets tax credit, which they claim for making "Qualified Equity Investments in qualified community development entities" that result in positive outcomes for low-income communities such as the financing of small businesses.
In Vermont, minority/woman-owned businesses can register as such in order to gain greater business visibility and have access to special contracting opportunities within the government and private sector. Certified minority/woman-owned businesses may also be eligible for discounts on certain services. This fact sheet from the Vermont Business Assistance Network provides more information on minority/woman-owned business certification.
Union Bank Is Your Local Provider Of Small Business Loans For Women In Vermont
When you need financing to start or expand your woman-owned business, turn to your community bank. Union Bank has been an SBA "Preferred Lender" since 1987. We are proud of our service to local businesses and are keen to see new startups thrive in Vermont and New Hampshire. Union Bank has helped many prominent businesses launch or expand through the years. As a locally owned bank we offer swift decision-making from our community-based loan officers. In fact, six of the loan officers on our lending team are women. To learn more about our small business (SBA) loans and other business banking services, contact us today or visit your local Vermont branch.