Voices of Jericho, VT
As Union Bank recently opened a new branch in Jericho, we're proud to join this amazing community. In this post, we've collected some of the wonderful things about living and working in Jericho from people who have been important members of the community for years.
Bob and Joanie White
Founded in 1990, White's Tree Farm in Essex, VT, is a beloved local "cut-your-own" tradition. Owners Bob and Joanie White expanded their Christmas tree farm in 2008, when they acquired 12 acres in Jericho. Since holiday trees need up to 10 years of growth before they're ready to take center stage in your living room, the first Jericho harvest occurred in the 2017 Christmas season. White also works with his son on a maple sugar operation during the rest of the year.
When White was growing up in Jericho, it was primarily a dairy farming community. He was raised on a small dairy farm that he purchased from his father in the mid-80s. That family farm turned into White's Tree Farm in Essex. As the Jericho area has grown, so have the Whites' businesses. If you want to get more involved in the local community, Bob recommends checking out the Jericho, VT, Front Porch Forum, an online community for local residents.
Jennifer Siple Katz
A Jericho resident since 1994, Jennifer Siple Katz worked as an Animal Control Officer for the Town of Underhill for 30 years. She is now a town Finance Officer and owns several rental properties and a laundromat in Jeffersonville, VT. Katz is also the founder of South Hill Business Solutions LLC.
Katz is a frequent traveler but always looks forward to coming home. "My neighbors are my family. It's home," she says of Jericho.
When asked what she loves the most about living here, Katz listed the incredible landscape and community, as well as the unique character and extremely tight-knit nature of Jericho and Underhill.
Katz is excited about welcoming Union Bank to the new town center in Jericho. She's glad that Union Bank will have a unique building to match the town's character and she looks forward to walking into Union Bank's Jericho branch office to visit with friends, neighbors, and colleagues. Katz has worked with Stacie Griffiths, the Union Bank Jericho branch manager, for the past 15 years to support and grow her business.
Katz's favorite local landmarks and organizations include Mount Mansfield; Mills Riverside Park, which is operated by the Jericho/Underhill Land Trust and a great place for all seasons that is also within walking distance to the new bank; and the amazing Deborah Rawson Memorial Library in Jericho.
Jennifer and JD Bugbee
The Bugbees bought Autosmith Sales and Service in Jericho in 2006. At the time, it was a two-person shop. Since then, the auto repair business has tripled in size to 8 employees under the Bugbees' management. Jennifer and JD attribute their success to the "great sense of community" in Jericho, where it's possible to grow via word of mouth because "everyone knows everyone and trusts you this way."
The Bugbees aren't just Jericho business owners; they also have a deep personal connection to the town. Their whole family, back to their grandparents' generation, has lived in Jericho Center. When asked what they especially love about their community, Jennifer and JD said, "The people, the public school system, vicinity to Burlington, and [the] landscaping. [Also,] having a sense of commercial growth and supporting that."
For Jericho residents who want to get more involved, the Bugbees recommend supporting school sporting events and checking out the local Lions Club.
Brenda Boutin
After working for the Essex Reporter for many years Brenda decided to launch her own business in 2002, the Mountain Gazette. The paper works to provide the community with comprehensive information about Jericho and the surrounding towns.
When asked to comment on the Jericho community Brenda responded, "I have found the area to be full of friendly and welcoming people." She continued, "Jericho is a thriving community of ideas and opinions where natives and transplants, known to us locals as flatlanders, meet, disagree and eventually come to some sort of agreement. The town government works hard at communication with its residents. Volunteers who step up to build playgrounds, run blood donation programs and the food shelf. Churches have banded together to provide free meals. People who run marathons to raise money for cancer research and carry a list of names in remembrance of those who have fought but lost the battle against the disease. Schools that work hard to provide the best education for the kids in their care."
And for anyone looking to increase their engagement locally, Brenda mentioned there is ample opportunity to do so. "Volunteers abound in Jericho from the group that has raised the funds to keep the community center in Jericho Center alive to those who came and helped provide for a family when they lost a teenage son in a car accident and then their barns to wind storms. The family has started the Elijah Davis Memorial Fund that provides a scholarship to a student at MMUHS. Folks can volunteer to tutor children, be a part of the mentoring program for students, or like Community Bank does get involved in the programs at school and help raise funds for different programs. The youth sports programs are always looking for coaches. Their is a local PBS cable network. Mount Mansfield Community Televison is always looking for volunteers to work filming public meetings, parades and other events. There is a very active Jericho Underhill Park District which rely on volunteers. The park provided room for the summers farmers market."
And for anyone new to the Jericho community, "you should know that Underhill and Jericho communities are joined at the hip. The Memorial Day parade starts at Clark's trucking each year and goes in a different direction each years. One toward Underhill and one toward Jericho. In the fall the United Church of Underhill puts on the Old Fashioned Harvest Market that draws thousands of folks who enjoy a parade, vendors, music and a flea market. The road from the Village Cafe to the end of Underhill on Route 15 becomes one giant garage sale. Volunteers from all of the organizations in the two towns make it possible."
Christa Alexander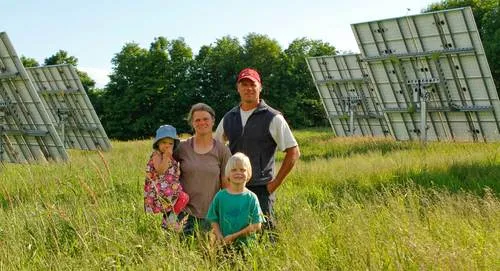 Alexander grew up on the farm in Jericho that she now operates as Jericho Settlers Farm with her husband Mark and their two kids. Alexander's parents also still live on the land. Jericho Settlers Farm was founded in 2002; today, it's an important part of the community, offering year-round CSA memberships, farmstand sales, and local events for students, seniors, and more.
In a blog post about what the Jericho community means to her, Alexander writes:
"I grew up here in Jericho Center where our main farm is located. When we started dabbling in farming over 15 years ago, our first customers and supporters were the great network of friends I have from having lived here all my life. They supported us and helped us get going, and as the farm has thrived we have been able to give back."
Stay Local. Go far!
As a community bank, we're loyal to the people and businesses we serve across the great state of Vermont. We invite you to meet our Jericho team and learn more about the convenient banking services you can find at Union Bank. We look forward to being a part of your community!