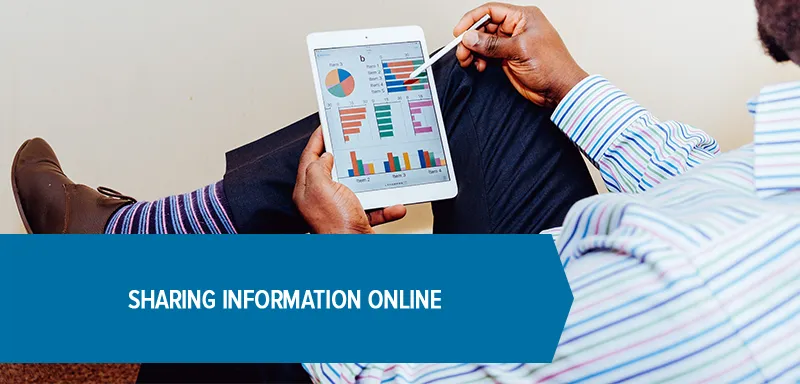 Best Practices For Sharing Information Online
When it comes to sharing information online, many people seem to believe that the rewards outweigh the risks. Facebook's privacy controversies have been all over the news lately, but instead of leading to a mass exodus from the site, the number of active users has actually increased. That may be due to the fact that so many users place a large amount of their social life on Facebook and fear if they leave they will become isolated from friends and family.
Social media isn't the only online space where we overshare information. How many shopping websites have you created an account on? Even ordering a pizza online may require you to provide personal information such as your name and address, phone number, and email. While there's usually a "guest checkout option," we often choose to store our information and even our preferred card number because it's convenient. Unfortunately, that convenience comes with a price. You may not fall victim to identity theft or other cybercrimes, but if the company you stored your information with sells it to others, you could end up receiving annoying marketing messages via email and snail mail.
Even when cybercrime occurs close to home in Vermont, it isn't realistic to expect everyone to stop using the devices and apps that have improved our lives in many ways, despite serious problems around privacy and safety. Education is the best means of prevention, especially among kids and young adults who may not understand the consequences of sharing personal information and photos online. In this article we'll cover the risks of oversharing online and the steps you can take to protect yourself, your family, and your personal data.
What is cybercrime?
When we talk about cybercrime, most people think of identity theft. The prospect of having your sensitive personal and financial information stolen is, of course, terrifying. But identity theft isn't the only type of cybercrime Internet users can fall victim to. The full range of cybercrimes includes: online identity theft, financial fraud, stalking, bullying, hacking, email spoofing, information piracy, and forgery and intellectual property crime, according to The National Cyber Security Alliance, which also describes the best-case outcome of cybercrime as "major inconvenience and annoyance." On the other end of the spectrum, "cybercrime can lead to financial ruin and potentially threaten a victim's reputation and personal safety."
Posting on social media doesn't always lead to cybercrimes, but there are other consequences. You may think you are only sharing photos and information with your followers or friends list, but employers and universities are looking, too. Of course, you can only control the posts you make from your own account. What about the content others may post about you? Take the "share with care" advice of the STOP.THINK.CONNECT campaign: "Think before posting about yourself and others online. Consider what a post reveals, who might see it and how it could be perceived now and in the future." This means you may have to ask friends to take down certain posts, or explain in advance that you're not comfortable sharing photos of your child online. Instead of feeling like you're spoiling others' online fun, consider yourself a model for how to be a good online citizen. Most people will simply respect your wishes if asked to do so.
Rethink what you share online
Now that you understand the risks that come with online activity, it's time to rethink what you share and take these steps to protect yourself and your loved ones online.
Read the fine print. Yes, there are plenty of memes illustrating how much we don't want to read terms of use and privacy policies. However, before you sign up for a retailer's loyalty program or check the box to create an account and store your information for "easier checkout" next time, consider reading the fine print to learn whether the company will keep your data private or sell it to other companies for marketing purposes.
Avoid phishing scams. "Phishing" is when a cyber criminal pretends to be a legitimate company in order to trick you into sharing personal information, account logins, and other sensitive data. You could encounter this kind of scam via email or on social media. Whereas phishing messages were once pretty obvious for their misspellings and grammatical errors, or botched logos, cyber criminals have gotten more sophisticated. They may pose as a company you already shop with and send you a link to "track" an order you don't remember placing. They also offer up the "bait" of something irresistible such as a sweepstakes prize or no-interest loan. If you are ever unsure whether a message is legitimate, don't click on the link. Instead, open a new browser window and visit the company's website directly or call their customer service line to enquire.
Listen for fraudulent phone calls. Spam calls have become a national concern and nuisance. And like phishing emails, robocall scammers have gotten better at their tricks. Recent phone frauds include callers posing as Microsoft or an anti-virus software company and asking for money to renew a supposedly lapsed license. During tax filing season, IRS scam calls become popular. As with phishing, never give out your personal or financial information over the phone. If you are concerned about the legitimacy of the caller's claim, hang up and call the company or organization directly to check on your account.
Be mindful about social media sharing. First, check your current account privacy settings to make sure only your friends can see what you post. Even then, you want to be deliberate about what you do (and don't) share. For example, it may seem obvious that tagging your location in a photo makes you vulnerable to crimes like burglary or stalking. But have you considered that sharing basic information like what kind of car you drive or the town where you were born could help cyber thieves figure out the answers to your security questions on other sites? Some cybersecurity experts even recommend giving false answers to security questions (during account enrollment) for this very reason. And, as we mentioned earlier, the information and photos you share about yourself online are likely to be used by schools, employers, and other strangers to make snap decisions about the kind of person you are. Curate your online presence wisely!
Local Help From Union Bank
If you want more information about staying safe online to prevent identity theft and other cybercrimes, our friendly and knowledgeable employees are here to help. You can contact us by phone or email, stop by your local branch office, or read our other blog posts on protecting yourself from cyber scams and identity theft.  And remember that Union Bank and other financial institutions will never solicit your personal information via email, text message, or telephone call.