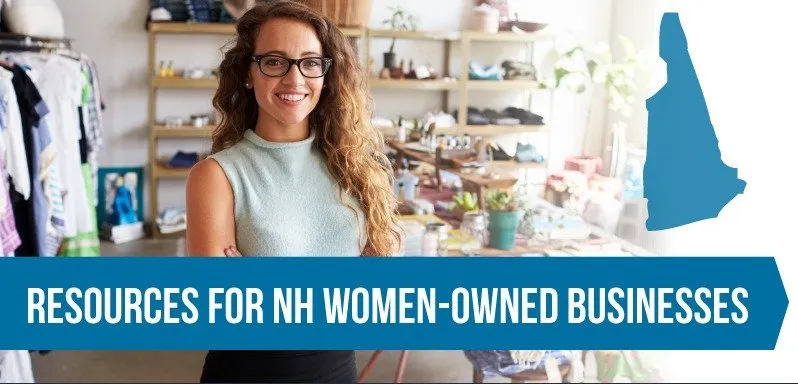 Ultimate Guide to Small Business Loans, Grants, and Resources For Women in New Hampshire
With today's Internet marketplace, it's easier than ever for entrepreneurs to take their ideas and transform them into a thriving business. Women-owned businesses are still a minority in the U.S. but are steadily gaining ground. Over the last 20 years, the number of Women are successfully starting and growing their own businesses right here in New Hampshire and across the country. According to the National Association of Women Business Owners, there are more than 11.6 million women-owned businesses in the United States. The success of women-owned businesses has led to a greater availability of grants, loans, and resources tailored to helping women succeed as entrepreneurs and business owners.
As your community bank, Union Bank wants to help you follow your dreams of entrepreneurship. By empowering women to start new businesses, we're continuing our mission to support the local economy and contribute to its prosperity. We put together this comprehensive list of resources for female entrepreneurs in New Hampshire for that reason. From free resources to help you get started, to a variety of sources for grants and financing, here's everything you need to know in order to operate a woman-owned business in New Hampshire.
Getting Started: Resources For Female Entrepreneurs In New Hampshire
While it's helpful to have resources specifically tailored to helping women, there are also many resources for small business owners that aren't gender-specific. We've compiled the best resources for women and small businesses and divided them into categories according to the main service they offer. Unless otherwise noted, all resources are free. If you feel overwhelmed about where to start, check out the Quick Start page from the website of the New Hampshire Secretary of State.
Mentoring And Education
Networking And Professional Organizations
WREN, the Women's Rural Entrepreneurial Network, is based in Bethlehem, New Hampshire. The group hosts classes and events and has an incubator program designed to provide members an affordable office space in which to work. Annual membership starts at $50 for an individual and $75 for a business.
Women Inspiring Women may not be a business-focused organization, but they do offer business workshops and networking opportunities. Each fall, Women Inspiring Women hosts the New Hampshire Conference for Women in Manchester. Annual membership is $85, some events and the conference have additional fees.
In southern New Hampshire the Seacoast Women's Network was founded in 1980 by a group of like-minded women as a business-oriented support group. The club remains an organization of entrepreneurial and professional women that provides opportunities to develop professional contacts and promote professional and personal growth. Their monthly networking dinner includes a speaker or panel presentation on a relevant business topic. Membership is $45/year and each monthly dinner you attend costs $35.
Financing Your Business
Getting your business off the ground takes money. Often this funding comes in many forms – personal investment, angel investors or venture capitalists, grants, and loans. To make your dream a reality you'll probably need to piece together funding from multiple sources. Below are the resources you need to start financing your new business.
Finding Small Business Grants for Female Entrepreneurs
Applying for grants take time and energy, but the reward is money for your business that you don't have to pay back. Below are resources to help you find grants for women starting a business in New Hampshire. We've also hand-picked some grants for women-owned businesses in New Hampshire to help you get started.
The Grants For Women database offers a searchable alphabetical list of grants, funding, and scholarships to help you find a relevant opportunity for your business venture.
gov is a database of federal grants for a variety of organizations, including small businesses.
WE magazine for women lists 125 Grants, Loans, and Scholarships for Women. They're sorted alphabetically by type of funding.
Women-Owned Business Grants in New Hampshire
If you're starting a non-profit organization, the New Hampshire Women's Foundation may have a grant for you. They award several grants annually to 501(c)(3) organizations that meet one of these standards: Advocate for Economic Security, Promote Women & Girls in Leadership, Foster Work & Life Balance, Champion Health & Wellness, or Support Women & Children at Risk.
The Amber Grant From WomensNet awards a qualifying grant of $1,000 each month and selects an annual recipient of the $10,000 Amber Grant from that year's monthly winners. The application is fairly simple–the main part of it is to tell the story of your business and what you would use the funds for. There is a $15 application fee to enter.
The EILEEN FISHER Women-Owned Business Grant supports women-owned companies with a record of innovation. Applicants should be ready to grow with a mission of having a positive impact on society and the environment. The company awards $100,000 in grants to no more than 10 recipients, with a minimum grant of $10,000.
The U.S. Small Business Administration's Office of Women's Business Ownership gives out InnovateHER grants to businesses that respond to a need in the market, are poised to expand, and can contribute to the lives of women and families.
Jewelry designers working in silver can apply for the Halstead Grant, which offers a combination of cash prizes, jewelry making supplies, and feedback to one grand prize winner and 10 finalists.
Open to all entrepreneurs, FedEx operates an annual small business grant contest and the NASE (National Association for the Self-Employed) Foundation provides scholarships, awards, and grants to small-business owners.
Small Business Loans for Women in New Hampshire
When you need additional financing to start or expand your woman-owned business, turn to your community bank. Union Bank has been an SBA "Preferred Lender" since 1987, allowing us to provide superior turnaround times on our business loans for women. We are proud of our service to local businesses and love to see new startups thrive. As a locally owned bank we offer swift decision-making from our community-based loan officers. In fact, six of the loan officers on our lending team are women. At Union Bank, we pride ourselves on assisting and promoting female entrepreneurs in New Hampshire.
When you choose Union Bank for your small business loan, we put our reputation and expertise to work for you. Smaller down payments, no minimum loan amount, and flexible repayment periods are just some of the benefits of our government-guaranteed SBA loans for women. Our small business loans can help finance commercial real estate and equipment purchases, or they can be used as working capital. Our commercial lending team will take the time to explain the entire loan process and tailor a custom loan to fit the needs of your unique business. You can browse our website to learn more about small business loans, or stop into your local New Hampshire branch to speak with a member of our knowledgeable lending team.
State And Federal Tax Benefits For Women-Owned Businesses In New Hampshire
Women-owned companies fall under the umbrella of minority-owned businesses. While the federal tax code doesn't offer a credit simply for being minority-owned, there are tax incentives intended to encourage government agencies and others to retain the services of minority-owned businesses. One possibility is to attract investors through the new-markets tax credit, which the investor receives for making "Qualified Equity Investments in qualified community development entities" that lead to positive outcomes–such as small business financing–in low-income communities.
In New Hampshire, businesses can register as minority or woman-owned in order to attract visibility and gain access to special contracting opportunities within the government and private sector. This program is run by the New Hampshire Department of Transportation. Their website provides more information on the Disadvantaged Business Enterprise Program.
Union Bank is a Proud Supporter of Women-Owned Small Businesses in New Hampshire
At Union Bank, we're here to help you along the path to successful small business ownership. With strong roots in New Hampshire and Vermont we know that commercial financing is one of the most stressful and overwhelming aspects of small business ownership. Our local expertise and established relationship with the Small Business Administration allows us to provide quick, personalized financing to help keep your business growing and thriving. To learn more about our SBA loans and other business banking services, contact us today or visit your local branch.